Here are some photos from Monday's 500pt Grand Prix.
I took Isengard with Lurtz and Sharku, but had to drop Saruman for a budget Wraith due to the points size.
Isengard opens!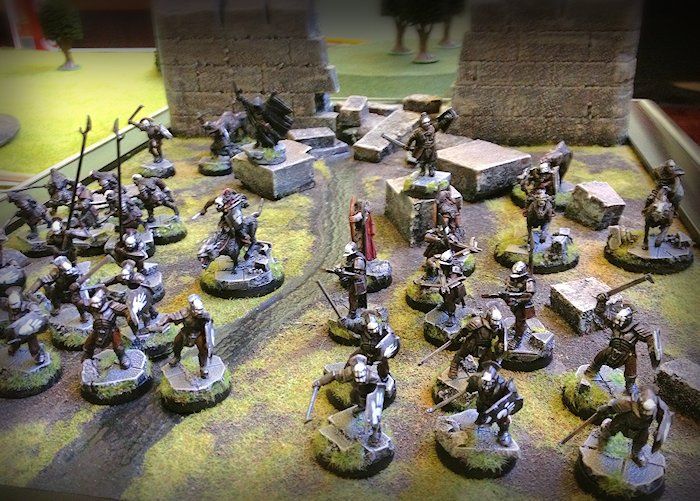 My first match was against an unusual army - Eagles, hobbits and Thorin Oakenshield.
What I'd expected to be a cake-walk was actually a hard-fought battle; those eagles just rip through things, throwing models around and rending the ones with heavy armour. I won in the end, but it took a ridiculous amount of effort to take them out.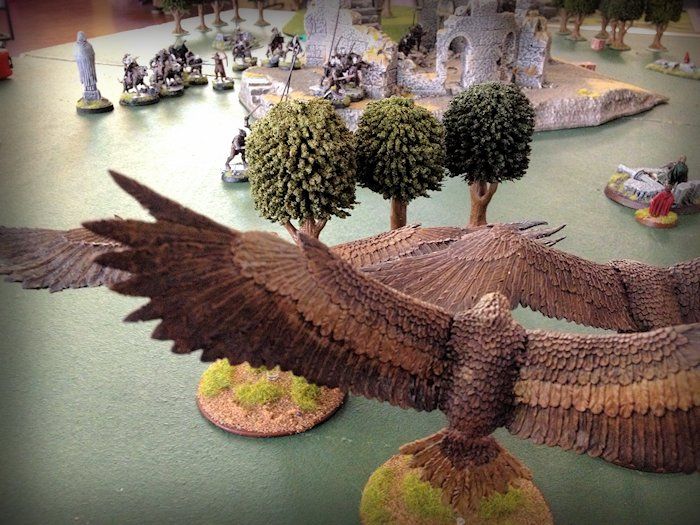 Mark's storm caller prepares to call nature's wrath and throw dwarves to the ground. In one match, Mark rolled Wild Channelling (natural sixes) three times in a row and managed to cast without even using a will point.
Floi in ruins, ensuring the dwarves hold the line.
My second match was "To the Death!" against ScoJu's Angmar army. This is a remarkable army in many ways, being unique in not having even a single Might point (even the Ring Wraith is the Dwimmerlaik who has none). Instead, it compensates with a host of special rules and
38 Points of Will in a 500pt game!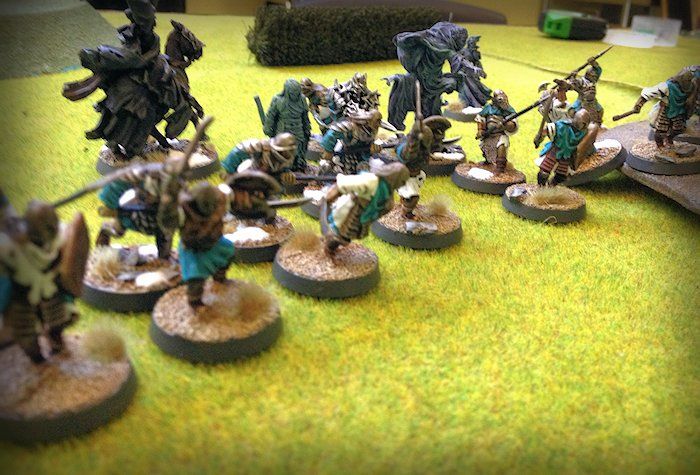 ScoJu's evil Angmar tracker Warg riders circle left.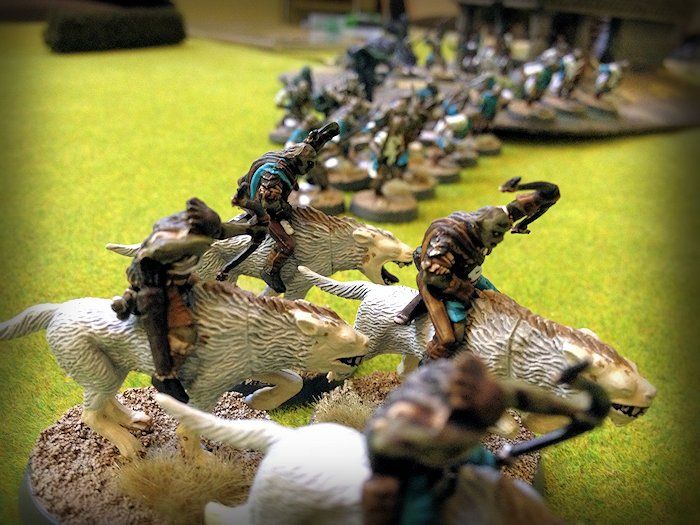 My own good honest heavily armoured Isengard Warg riders head right, while the forces of Isengard force their foes in at the end of crossbow bolts. Yes, even in the new rules archery may not win the game, but it helps decide where the battle is fought.
The lines collide. One side had a Castellan, Dwimmerlaik, Spectre and Shade and the other heavy armour, shields, pikes and heroes. Angmar broke first, but his general the Dwimmerlaik was lucky enough to escape from a Sap Will duel, combats and heroic moves against him to end the game with a single point of Will remaining, giving us a well earned Draw after an extremely hard fought game.
The new grimhammer dwarves, taking Amon Hen from the Goblins.
Their king faces off against one of the most evil Angmar forces ever fielded.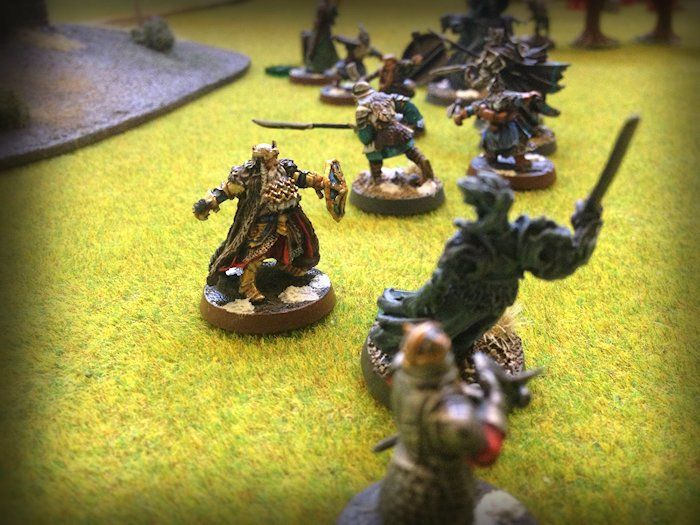 Game three was against Brooksey's Rohan and Gondor - a completely cavalry force, featuring Erkenbrand and Boromir. The scenario was "Lords of Battle" (1 VP per wound inflicted or fate point used).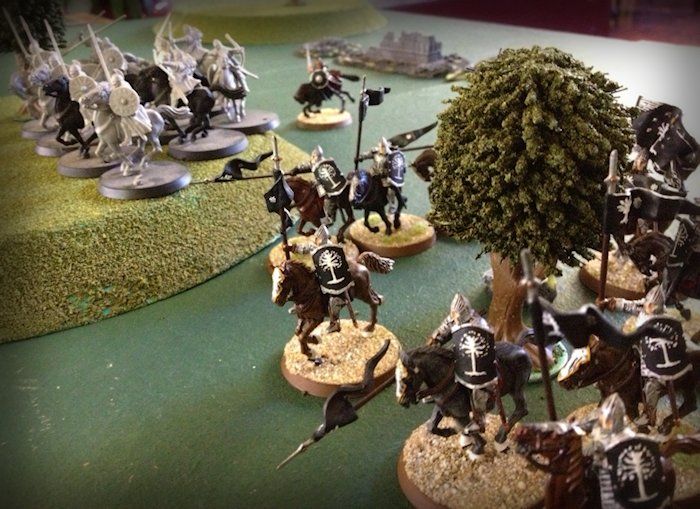 Archers forced the Cavalry in towards rough terrain, but as soon as they came too close I left it, committing almost the whole army into combat.
Despite the fact not a single combat was actually fought in rough terrain, this had caught Brookesy off-guard, and his cavalry faltered under the weight of the charge. I tried to keep Boromir out of the fight as long as possible, but when he finally made it to combat in turn 4 he took out 7 models in two turns, including Lurtz. Too little, too late, and his comrades lost the field.
On another table, the zero-Might Angmar faced Mark's army of the Dead and Wood Elves, resulting in another extremely close battle.
Final round: The High Ground against JJ's Fiefdoms of the Dead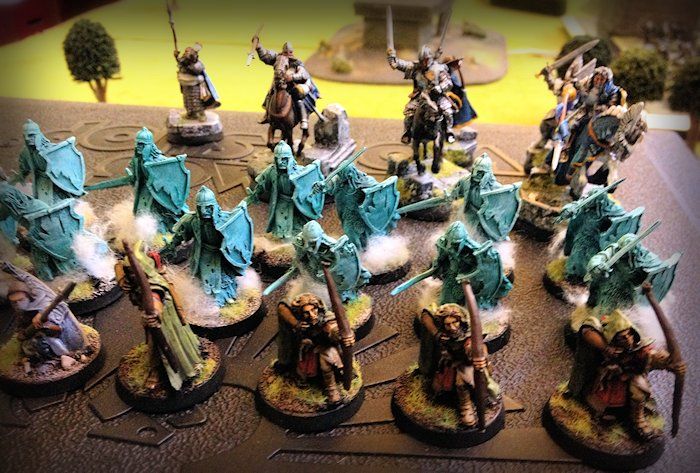 I knew this army well, since I helped write the list and lent him all pikes, and knew how the Army of the Dead can slice through orks and uruk-hai's courage like a hot knife through butter. My plan was simply to try wrap around his line and kill some of the easier supporting models, and then 'Die on the Hill' so the game end would be triggered while I still had enough men left to dominate the terrain piece we were fighting over.
However, the rate at which models died was a surprise to both of us, as the AOD weren't just killing their opponents, they were also winning almost all the fights. I lost quarter of my models in turn 1, and had lost half by the end of turn 2. Maybe plans that start with the word 'Die' aren't that great an idea after all.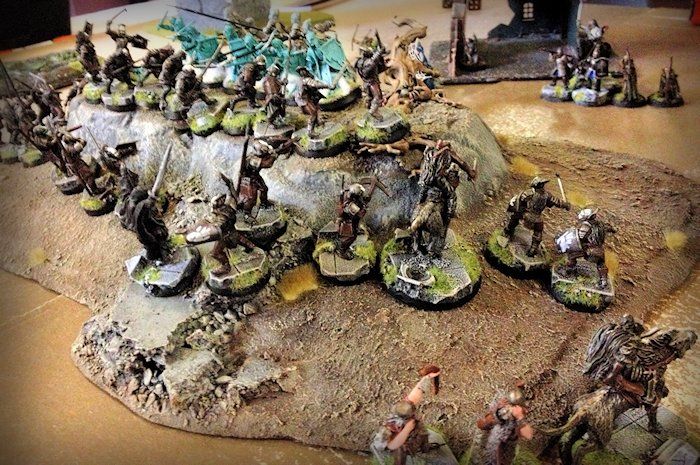 I managed to pull this back when Wargriders impacted on his rear line and some of his pikes were engaged from behind, but it was far too little to make up the difference, and JJ coasted to an easy win.
Good games all round, and a fun event. Thank you to the Gamer's Guild organisers who made this event possible.