I remember you making that campaign map years ago. Such a fantastic idea!
---
Awesome stuff, loving the conversions and the goblins
---
Good to see you're still in the hobby! Keep up the work!
Middle-Earth Monster Mash - 4th
(Mordor+Harad)
Middle-Earth Monster Mash II - 4th
(Galadhrim)
Middle-Earth Monster Mash III - 2nd
(Thorin's Company)
Middle-Earth Monster Mash IV - 7th
(Minas Morgul)
---
Thanks guys, much appreciated!
I just started work on something different: sculpting small towns on 25mm bases from scratch. Gonna be a nice challenge!
Also known as "Fëanor, the mighty elf"
---
Wow, it's been over half a year that I updated this WIP thread.. Ridiculous!
I must say I haven't had much time to work on the hobby a whole lot, but I have done a couple of things! So, here we go..!
A small diorama I've been working on lately. I want to do a series of dioramas of Sam's heroism in Mordor, and this will be the first of them.
I've used webbed Frodo (from the Clutches of Shelob boxed set) and cooking Sam (from the Captured by Gondor boxed set). Sam's pot and fire were removed, and Frodo's webbed head was removed (because in the book, he was said to be webbed from ankles to shoulders) and replaced by another Frodo head. Sam's thumb has today been sculpted, and now I only need to finish Sting's grip. Shouldn't take too long..
While we're on the subject of webbed people..
A webbed Elf, Orc or Man! It's sculpted from a base of Miliput, and (once dried) a layer of ProCreate was put on top and threads were made with a sculpting tool. Will be a cool little objective marker of some sort.
More Elves! This time actually visible:
This is a Red Box Games Elf (
http://red-box-games.com/index.php?main ... ucts_id=66
). Beautiful sculpt, and very detailed, but a joy to paint! The base was sculpted with Miliput. He will represent some high Elven Lord. I'm quite happy with how he turned out, except for the light blue back thingy. Not too sure about that. I'm also unsure if I should give him eyes (they're tiny). Other than that quite happy, especially with the muted colours.
More Red Box Games miniatures! This time it's Fenris (
http://red-box-games.com/index.php?main ... cts_id=180
)! Another beautiful sculpt, and much easier to paint this one.
This Black Wolf might be used as some kind of Warg Chieftain. Menacing model!
And finally, some classic metal Dwarves!
WIP:
Finished:
Two of the four were slightly converted (scale mail removed, chain mail added). I wrote an article for last month's Der Skirmisher were I describe how the conversion is done (
https://hdrskirmisher.files.wordpress.c ... l-2015.pdf
). I'm very glad with how these turned out, and I'm looking forward to converting and painting more of these gorgeous models! I wouldn't mind having a small 30-strong army of them..
Also known as "Fëanor, the mighty elf"
---
Squire
Posts: 225
Joined: Thu Feb 07, 2013 7:46 pm
Great job on everything. "Sams heroism in Mordor" sounds a really good theme for dioramas.

Good to know the Red-Box- miniatures. Fine sculpts, thought the prices seem to be nearer GW than some "cheap plastic sets".

I had always thought that the dwarves were the only older metal models I don't really like, but maybe it was more to do with the green-gold color scheme that GW always had them in. Your dwarves look nice.
---
Squire
Posts: 225
Joined: Thu Feb 07, 2013 7:46 pm
And great stuff at Der Skirmisher. I can't really read germany, but can make something out of it.
---
Thanks Kalle!
The RBG models are indeed not very cheap, but they are still about half as expensive as GW I think, and they are equally well detailed. Hasslefree will be selling them from the UK (so you don't need to pay extra taxes for importing them from the US).
I never liked the green colour scheme of those Dwarves either, but I find these muted colours work much better.
As to the articles of Der Skirmisher, I got the original ones written in English. I still plan to put them online in English, but I haven't gotten around to it yet. But, keep an eye out.
Also known as "Fëanor, the mighty elf"
---
Another small update, this time after a shorter time than the previous one.
First off, nothing big, but a rebased old model: Cirion:
The model was painted probably some 6 years ago, but I'm still fond of the colour scheme and the paint was not too bad. Now rebased on those nice thin Renedra bases, to lead some troops in Osgiliath! I won't use him as (GW's) Cirion, but rather as some random Gondorian noble. I feel the colour scheme looks fitting enough!
Now, the troops he will be leading, will be these:
Converted WoMT to be closer to the books (no plate, but mail and surcoats). I have already finished some 10 with sword, and now some 10 spearmen are converted and ready to be painted! Next up: 12 archers!
Another project I wanted to do for years, was get an entire Fellowship for every fight they get into (so, one for Hollin, Moria, Amon Hen, Helm's Deep, etc). This Aragorn is converted to represent him as described when fighting at Helm's Deep: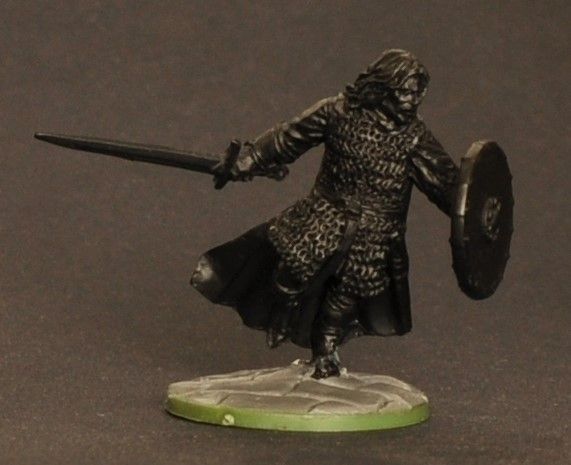 Looking forward to painting him!
And lastly, a painted different conversion. I made this a while ago from an Uruk-hai Scout and converted him into a Haradrim Chieftain or Haradrim Champion.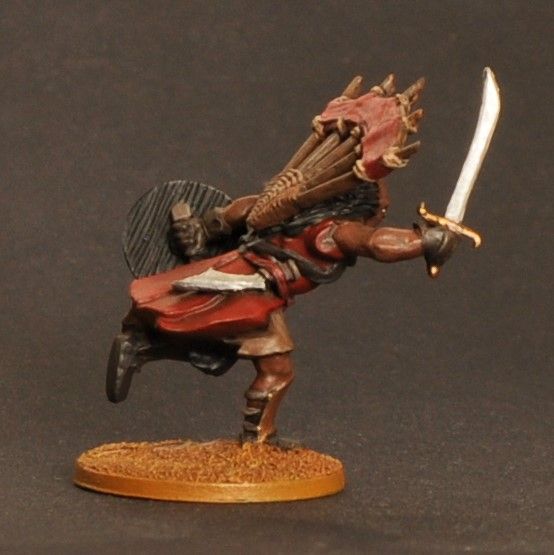 In the books, the Haradrim are described as having armour of layered plates. The Uruk-hai Scouts struct me as having plausible armour, and so he was converted for this purpose. Quite like how he turned out (though he still screams Uruk a bit to me), so I might go and convert more of them, as an elite band or so!
The dagger on his back was kindly donated by the above Aragorn, by the way.
Up next: converting more Goblins, Dwarves, WoMT and perhaps Orcs, all with one thing in common: chain mail! I'm also working on a sculpt from scratch, a Wood Elf casualty!
Also known as "Fëanor, the mighty elf"
---
I really like your shelob diorama.
---
Return to Painting
Who is online
Users browsing this forum: No registered users and 7 guests