So here is my introduction, I started collecting LOTR SBG after picking up ( imo ) the best hardcover version of the hobbit, highly inspired by Alan Lee's wonderful watercolor in the Illustrated version, on a whim I bought a blister pack of the ( then ) Goblin King and 4 Moria metal Goblins, soon after my addiction followed.
I'm sure I'm not the only one with a pile of unpainted minis, in my own defense I can say the last 5 years has been extremely busy for me in business along with art. As a few know by now I am more of a Tolkien purist when it comes to my army's, how I build them, the scenarios and story's around them etc. I was fortunate at the time to be able ( since this was rather late-ish into SBG's life in 2008 ) to buy what was still readily available at the time new for 35% off, later on I took some breaks and through local indy shops who outright stopped selling GW in general, many of their SBG products were as low as 55% off.
Knowing the sad but realistic future of SBG ( and I had hunches The Hobbit would be the semi failure that it is ) I was very strategic about my purchases, little did I know that metal would be stopped and we would end up with this nasty failcrap fiasco. So I bought with future planning, that is to say I filled out metal first with what I considered to be must haves for expanding to larger point games, and what characters, troops and so on I would need for the specific army's I would work on later. In fact knowing most of the movie heroes were ( at the time and still a bit ) in abundance and dirt cheap, I decided to pick up what I figured would end up being rare or in demand at a later date, so I would not have to deal with the sickening greed and exploitation of both gamers and sellers with what we are experiencing now on ebay. In fact not too long ago I finished off my 2500 point FB armies with a similar strategy and glad that I did, although I have a feeling that SBG will be a nice little nest egg for many of us...if...if...we ever choose to years from now to move on, although I doubt I will as Middle Earth and SBG has a special place with me and I feel firm over that.
I have a few armies I'm working on and that have been in various WIP stages since getting into the game, as I read the history of middle earth volumes and became more engrossed in the deeper history of these ages, I settled mainly on arnor and angmar ( centered around unknown heroes and the years of fighting the witch king, with some grey company later ideas ), moria ( mainly being around balins expedition and those battles ), Rivendell ( many different ideas for this ) and my most recent and probably last as I have 90% of what I will need for life, Dol Guldur. While I have a very themed Cirith Ungol sized force, I bought that in fact more for a future display army rather than for gaming, although I specifically bought the mordor uruks for moria itself, but since I had that many and orcs already with the tower duo, I said what the hell and bought shelob just for the future if I feel like using them and decide to branch into gondor which would probably be Ost G.
There is quite a few small and mid sized gaming tables I plan to work on outside of this, these will naturally be outdoor wooded areas dealing with haunted locations, spider areas and ruins + wilderness in general, along with some interior moria and cave like locations. I feel there is quite a bit of interesting things to be done with those for both gameplay and to set battles around.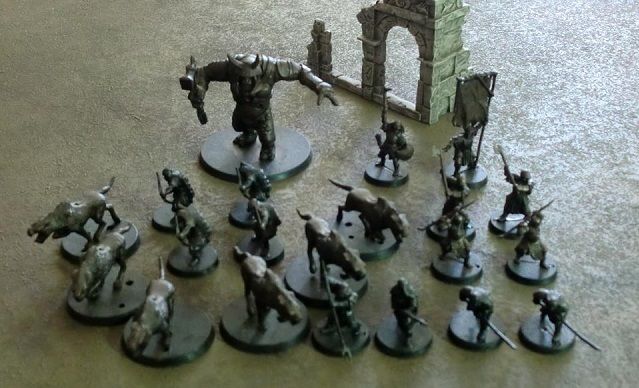 Kursnak the degenerate orc captain, servant of angmar and his growing warband under the watchful gaze of the witch king. This one is mainly in the basecoat stages and some metal on the weapons, it will be updated first I think over the coming months. Ironically my dog chewed up one of my wild wargs...so I'm down to 5.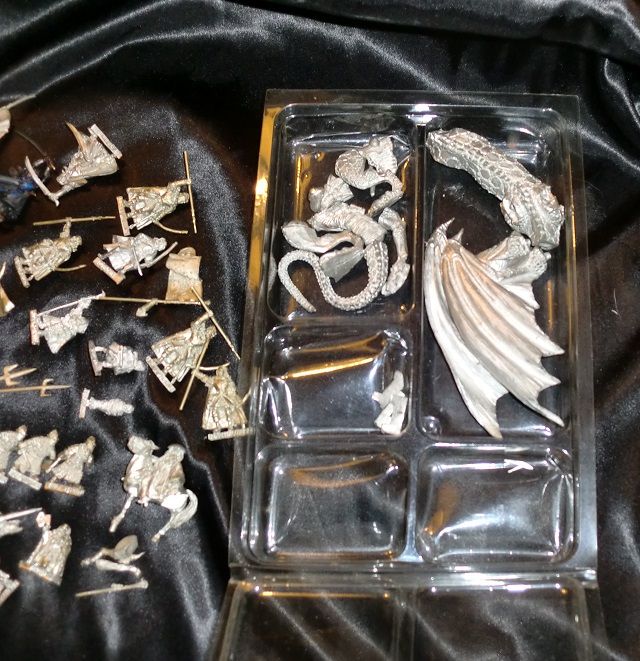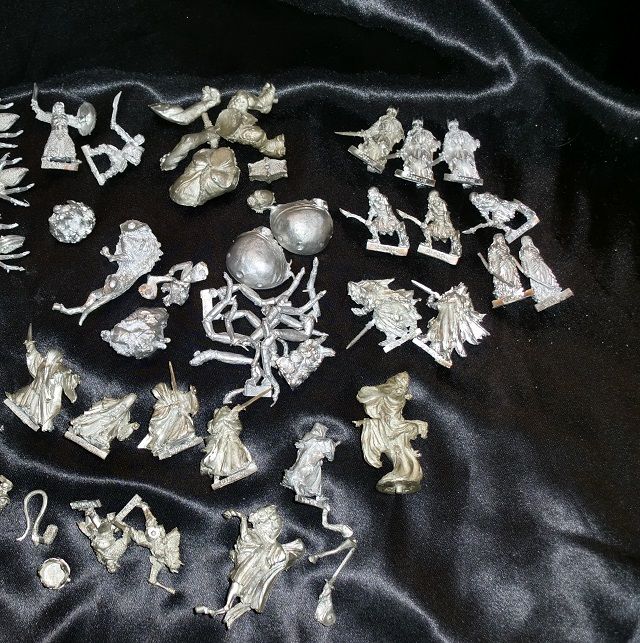 This is all of my unpainted metals to date, interesting to note and this is something specific I have encountered with SBG minis ( I can only imagine how bad failcrap is ), I have 3 Glorindel second verisons ( while GW sent them free I gave up after the third one and even asked them to check their stock and sure enough all of them had this problem ), whoever sculpted this one did a terrible job on the joint of the hand where it meets the blade, first of all there is no guard or anything, so the joint is VERY thin and out of 3 blisters all suffered this problem where its cracked and any bending literally snaps the sword off trying to work it into place, having a quick look around the net at others it seems most of them have this similar issue with a replacement sword added on, this is going to be a DELICATE ( as glue and greenstuff wont hold something that tiny and thin for long ) pinning job but I prefer him over gary's version. The K Guard dwarve's suffer a similar issue with a few of the sculpts, the axe handles being too fine to be secure it's why we often see many of them broken, I've opened a few of those blisters where the joint is cracked and just hanging where it meets the axe blade.
A reflection on this situation ( and I doubt I'm the only one who has encountered it over the years ) is that yes the SBG range is sculpted lovely and more realistic, however many of the weapons or blades are so fine that a trade off to have them a bit thicker for stability would have been wiser in my view.
An autumn tree I finished, I plan to work on a few of these but they are quite time consuming but worth it.
When time permits I will be adding quite a few more wip shots. I won't claim to be a top end painter but I do my best and tend to take my time, they may not be GD quality but usually above table top standards.
Unshown for now as they are mainly undercoated black or simply bare plastic are:
2x24 warriors of the last alliance
24 rangers
2x24 mordor orcs
6x riders of rohan
24 dwarf warriors
12 dwarf rangers
12 warriors of gondor
2x bat swarms
2x 24 moria goblins
Some dunedain, spectres, dwarf command, arnor command and some goblin heroes and orc command and some barrow wights.
More to come later...